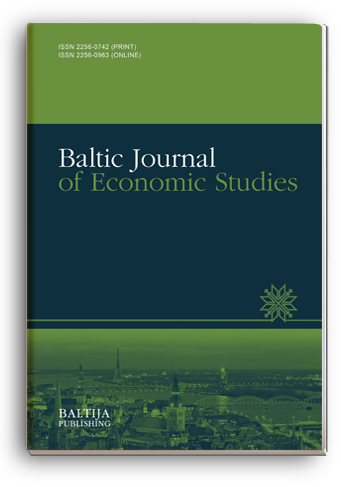 Baltic Journal of Economic Studies
The Baltic Journal of Economic Studies is an interdisciplinary scientific platform in the field of economics, business management, national economy, structural and social policies. The scientific journal publishes original research and theoretical and practical articles on many issues of economic science. The main attention is paid to articles on the evaluation and analysis of the modern economy, the branch economy of local and foreign markets, the development of business strategies that further promote the direct development of the economy of Eastern Europe and Baltic states.
View Journal | Current Issue | Register
The Visegrad Four – Ukrainian dimension. Integration – step by step
ISBN (Print): 978-9934-571-02-2
DOI: https://doi.org/10.30525/978-9934-571-02-2
The authors of articles usually express their own opinion, which is not always comply with the editorial Board's opinion. The content of the articles is the responsibility of their authors. The presented collective monograph is the result of the round table "Countries of the Visegrád Group: Results of Economic Interaction and Lessons for Ukraine" held within the framework of International Scientific-Practical Conference "Modern Global Regionalistics and Economic Entities: Directions of Influence" devoted to the 26th anniversary of the foundation of the Visegrád Group, as well as result of work of a group of authors united by a common idea to present the results of their research.
The Visegrád Four – Ukrainian dimension. Integration – step by step: Collective monograph / under the editorship of T. Derkach, Doctor of of Economic Sciences, Associate Professor. Riga, Latvia: Izdevnieciba "Baltija Publishing", 2017. 308 p.