NEW STAGES OF DEVELOPMENT OF MODERN SCIENCE IN UKRAINE AND EU COUNTRIES: Monograph / edited by authors. – 6th ed.
Synopsis
The monograph describes the theoretical and practical aspects of the development of science in Ukraine and the EU countries. There are distinguished the general issues on the literary theory, comparative literary studies, comparative-historical and typological language studies, theory and practice of translation, literature of foreign countries, along with psychology of social work and activity in specific conditions, etc. The publication is designed for scientists, lecturers, postgraduates, students, as well as a wide range of readers.
New stages of development of modern science in Ukraine and EU countries: monograph / edited by authors. – 6th ed. – Riga, Latvia : "Baltija Publishing", 2019. – 472 p.
Chapters
Chapter «Philological sciences»

PRAGMATIC TYPES OF CRITICAL RE MARKS IN ENGLISH LANGUAGE RE SEARCH ARTICLE S IN PSYCHOLOGY

THE INFLUENCE OF LINGUISTIC AND EXTRALINGUISTIC FACTORS ON THE DERIVATIONAL POTENTIAL OF SUBSTANTIVES IN THE MODERN UKRAINIAN LANGUAGE

SEMANTIC PECULIARITIES OF HEADINGS IN STEPHEN KING LITERARY WORKS

ENGLISH PHRASAL VERBS: DERIVATION AND SEMANTICS

ANTITHESIS AS A STRATEGY OF SUGGESTIVE IMPACT IN AMERICAN ELECTORAL DISCOURSE

TRANSLATION OF PAREMIOLOGICAL UNITS FROM ENGLISH INTO UKRAINIAN TAKING INTO ACCOUNT THEIR TYPOLOGICAL DIFFERENCES

REPRESENTATION OF REALITY AND IRREALITY IN POLISH AND UKRAINIAN LANGUAGES: COMPARATIVE STUDY

EROTIC-OSMOTIC COMPLEX AS THE ESSENCE OF POSTMODERNISM: PHILOSOPHICAL ASPECT

CHRONOTOPIC ORGANIZATION OF THE SHORT-STORY BY NIKOLAI GOGOL "ST. JOHN'S EVE"

LINGUISTIC EMBODIMENT OF EMOTIONS IN PETER MAYLE'S NOVEL "HOTEL PASTIS"

STRUCTURAL-COMPOSITIONAL PECULIARITIES OF LITERARY-CRITICAL ARTICLES

AFFIXOIDATION AS A PRODUCTIVE WAY OF WORD-BUILDING IN MODERN ENGLISH AND FRENCH

TRANSLATION AS INTEGRATIVE COMPONENT OF INTERCULTURAL COMMUNICATION

CHAPTER «PSYCHOLOGICAL SCIENCES»

HEALTH MANAGEMENT THEORY AND PRACTICE IN ITS SIMULATION: FORECASTING, PREVENTION AND PSYCHO-CORRECTIVE EFFECTS

NON-INSTRUMENTAL FACILITIES OF LIE DETECTION AND THEIR EFFICIENCY IN THE MODERN PSYCHOLOGICAL PRACTICE

COMMUNICATIVE COMPETENCE AS A CONDITION AND CONSEQUENCE OF SPIRITUAL-CREATIVE DEVELOPMENT OF FUTURE EDUCATORS

FEATURES OF THE SEX-ROLE SPHERE OF GIRLS-ADOLESCENTS WITH VIOLATIONS OF THE MENSTRUAL FUNCTION

THE RESULTS OF THE CORRELATION ANALYSIS OF DATA ON THE SELECTION OF FORCED MOVEMENTS FROM THE ATO AREA

MEDIA COMPETENCE AS A FACTOR OF PROFESSIONAL SELF-REALIZATION OF A PRACTICAL PSYCHOLOGIST

THE PERSONALITY TRAITS OF EMPLOYEE OF STATE EMPLOYMENT SERVICE OF UKRAINE THAT AFFECT THEIR DESIRE TO SELF-DEVELOPMENT AND THE MOTIVATION OF ACHIEVEMENT

MODERN METHODS OF DIAGNOSING VIRTUAL ADDICTION AMONG ADOLESCENTS: RELEVANCE AND PROSPECTS

EFFECTIVE MANAGEMENT OF ORGANIZATION AS A FACTOR OF ORGANISATIONAL CLIMATE

FAMILY AS A FACTOR OF PRESCHOOLCHILD`S DETERMINATION OF PSYCHOLOGICAL GENDER

COGNITION OF THE PERINATAL SYMBOLISM THROUGH VISUALISED REPRESENTATION OF A PROSPECTIVE PSYCHOLOGIST
Author Biographies
Olena Balatska,
Poltava National Technical Yuri Kondratyuk University, Ukraine
Alla Bolotnikova,
Poltava National Technical Yuri Kondratyuk University, Ukraine
PhD, Head of Department of General Linguistics and Foreign Languages
Inna Berkeshchuk,
Kamianets-Podilskyi Ivan Ohiienko National University, Ukraine
Candidate of Philological Sciences, Associate Professor, Senior Lecturer at the Department of Ukrainian Language
Nataliia Ladyniak,
Kamianets-Podilskyi Ivan Ohiienko National University, Ukraine
Candidate of Philological Sciences, Associate Professor, Senior Lecturer at the Department of Ukrainian Language
Tetiana Borysova,
Kherson State University, Ukraine
Candidate of Philological Sciences, Associate Professor at Department of Foreign Languages
Oksana Vorobiova,
National University "Yuri Kondratyuk Poltava Polytechnic", Ukraine
PhD in Philology, Associate Professor, Head of the Department of Germanic Philology and Translation
Larysa Saienko,
National University "Yuri Kondratyuk Poltava Polytechnic", Ukraine
Senior Lecturer at the Department of Germanic Philology and Translation
Marharyta Heletka,
National Aerospace University, Ukraine
Ph.D. of Philology, Associated Professor at Department of Applied Linguistics
Viktoriia Ryzhkova,
National Aerospace University, Ukraine
Ph.D. of Philology, Professor at Department of Applied Linguistics
Olena Dmytrenko,
Poltava National Technical Yuri Kondratyuk University, Ukraine
Candidate of Philological Sciences, Associate Professor
Oleksandr Kalnik,
Poltava National Technical Yuri Kondratyuk University, Ukraine
Candidate of Pedagogic Sciences, Associate Professor
Nataliya Magas,
Vasyl Stefanyk Precarpathian National University, Ukraine
Candidate of Philological Sciences, Associate Professor at the Department of Foreign Languages
Oleksii Vorobets,
Vasyl Stefanyk Precarpathian National University, Ukraine
Candidate of Philological Sciences, Associate Professor at the Department of General and German Linguistics
Natalia Opryshko,
Kharkiv National Automobile and Highway University, Ukraine
PhD, Assistant Professor at the Chair of Philology and Linguodidactics
Anna Pavelieva,
Poltava National Technical Yurii Kondratyuk University, Ukraine
Candidate of Philological Sciences, Associate Professor at the Department of Germanic Philology and Translation
Tetiana Kushnirova,
Poltava National Technical Yurii Kondratyuk University, Ukraine
Doctor of Philological Sciences, Professor at the Department of Germanic Philology and Translation
Natalya Romanova,
Kherson State University, Ukraine
Doctor of Philological Sciences, Associate Professor, Professor of the Department of German and Romanic Philology
Anna Savchuk,
Ivan Franko National University of Lviv, Ukraine
Ph.D. student, Assistant Lecturer at English Philology Department
Marta Fedorchuk,
Ivan Franko National University of Lviv, Ukraine
Scientific Advisor, Candidate of Philological Sciences, Associate Professor at English Philology Department
Olena Samoilenko,
Donetsk National Medical University, Ukraine
Candidate of Philological Sciences, Head of the Department of Linguistic and Humanitarian Subjects
Liudmyla Cherednyk,
Poltava National Technical Yuri Kondratyuk University, Ukraine
PhD in Philology, Associate Professor
Yuliia Hunchenko,
Poltava National Technical Yuri Kondratyuk University, Ukraine
Svitlana Bondarevich,
Odessa National Maritime University, Ukraine
Candidate of Psychological Sciences, Associate Professor
Katherina Vasuk,
Vasyl' Stus Donetsk National University, Ukraine
Candidate of Psychology Science, Assistant Professor in the Department of Psychology
Victoria Galchenko,
Drahomanov National Pedagogical University, Ukraine
Candidate of Psychological Sciences, Associate Professor of the Department of Pedagogy and Psychology of Preschool Education and Child Creativity
Svitlana Repetiy,
Drahomanov National Pedagogical University, Ukraine
Candidate of Psychological Sciences, Doctoral Student, Department of Philosophical Anthropology and Cultural Studies
Alla Gryshko,
National Aerospace University N.E. Zhukovsky «Kharkiv Aviation Institute», Ukraine
Candidate of Psychological Sciences, Associate Professor at Department of Psychology
Anna Huliaieva,
Nizhyn Mykola Gogol State University, Ukraine
Graduate Student of the Department of General and Practical Psychology
Mykola Papucha,
Nizhyn Mykola Gogol State University, Ukraine
Doctor of Psychological Sciences, Professor, Head of the Department of General and Practical Psychology
Vsevolod Zelenin,
National Pedagogical Dragomanov University, Ukraine
Candidate of Psychological Sciences, Associate Professor, Department of Political Psychology and Social Legal Technologies
Tetiana Ponomarenko,
National Pedagogical Dragomanov University, Ukraine
Postgraduate Student at the Department of Political Psychology and Social Legal Technologies
Kateryna Kalenichenko,
Kyiv National Taras Shevchenko University, Ukraine
PhD Student of Psychology Faculty
Olena Vlasova,
Kyiv National Taras Shevchenko University, Ukraine
Doctor of Sciences in Psychology, Professor, Head of Developmental Psychology Department
Serhii Maksymenko,
G.S. Kostiuk Institute of Psychology of the National Academy of Educational Sciences of Ukraine, Ukraine
Oleksii Lysenko,
G.S. Kostiuk Institute of Psychology of the National Academy of Educational Sciences of Ukraine, Ukraine
Neonila Partyko,
Lviv Polytechnic National University, Ukraine
PhD (Psychology), Associate Professor, Associate Professor at Department of Theoretical and Practical Psychology
Iryna Savka,
Lviv Polytechnic National University, Ukraine
PhD (Psychology), Associate Professor at Department of Theoretical and Practical Psychology
Yurii Savchenko,
Pedagogical Institute of Borys Grinchenko Kyiv University, Ukraine
Candidate of Psychological Sciences, Associate Professor, Deputy Director on Scientific, Pedagogical, Social and Humanitarian Work
Lydmila Bulana,
Borys Grinchenko Kyiv University, Ukraine
Aspirant of Institute of Human Sciences
Yuliia Sidenko,
Cherkasy Bohdan Khmelnytsky National University, Ukraine
Candidate of Psychology Sciences, Lecturer in Applied Psychology
Oleksandra Franchuk,
Cherkasy Bohdan Khmelnytsky National University, Ukraine
Candidate of Psychology Sciences, Lecturer in Applied Psychology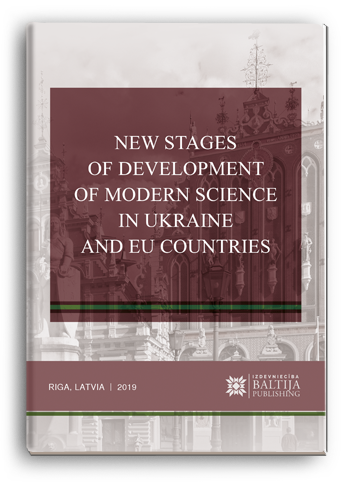 Published
November 29, 2019