NEW STAGES OF DEVELOPMENT OF MODERN SCIENCE IN UKRAINE AND EU COUNTRIES: Monograph / edited by authors. – 2nd ed.
Synopsis
The monograph describes the theoretical and practical aspects of the development of economic science in Ukraine and the EU countries. There are distinguished the general issues on the world economy and international economic relations, economy and business management, innovation and investment activities, accounting, analysis and audit, marketing, etc. The publication is designed for scientists, lecturers, postgraduates and students of economic specialities, as well as a wide range of readers, who are interested in economy.
New stages of development of modern science in Ukraine and EU countries: monograph / edited by authors. – 2nd ed. – Riga, Latvia : "Baltija Publishing", 2019. – 528 p.
Chapters
CHAPTER «ECONOMIC SCIENCES»

IMPLEMENTATION OF THE ENVIRONMENTAL MARKETING STRATEGY AND SYSTEMS OF ECOLOGICAL AND ECONOMIC MANAGEMENT OF AGRICULTURAL ENTERPRISES IN UKRAINE

PROSPECTS FOR DEVELOPMENT OF MEDIUM-TERM BUDGET PLANNING IN UKRAINE

FIELD OF OPTIMIZATION OF FINANCIAL-ECONOMIC ACCOUNTING IN MODERN CONDITIONS

PROBLEMS AND PROSPECTS OF THE INNOVATION MANAGEMENT DEVELOPMENT IN UKRAINE

ORGANIZATIONAL AND LEGAL PRINCIPLES OF ACCOUNTING IN TRADE

INCOME DISTRIBUTION INEQUITY AS THE OBSTACLE TO ECONOMIC PROSPERITY

FINANCIAL POLICY OF INCENTIVE SUPPORT OF SUSTAINABLE DEVELOPMENT AT THE LEVEL OF REGIONAL SYSTEMS: EXPERIENCE OF THE BALTIC STATES

CONCEPT OF PERSONNEL MANAGEMENT OF CONSTRUCTION ENTERPRISES UNDER THE CONDITIONS OF INNOVATIVE ACTIVITY BASED ON THE AWARENESS OF SPECIFIC FEATURES OF THE INDUSTRY

SOCIAL DEVELOPMENT AND KNOWLEDGE ECONOMY STIMULATION THROUGH THE TAX INCENTIVES IMPLEMENTATION

FORMATION OF STRATEGY AND TACTICS OF COMMERCIAL BANK MANAGEMENT

OVERVIEW OF BASIC SCIENTIFIC APPROACHES TO EVALUATION OF THE DEVELOPMENT STRATEGIES EFFICIENCY

INFORMATION SURPLUS AS THE MODERN STAGE IN THE EVOLUTION OF INFORMATION ASYMMETRY

PRACTICAL ASPECTS OF SOCIAL DISCOUNT RATE DETERMINATION IN UKRAINE

STRATEGY FOR DEVELOPMENT OF AGRO-INDUSTRIAL COMPLEX AND MARKET OF AGRICULTURAL LAND IN UKRAINE

SOCIO-ECONOMIC CONDITIONS OF REALIZING YOUTH LEADERSHIP POTENTIAL IN UKRAINE'S UNITED TERRITORIAL COMMUNITIES

FINANCIAL BUSINESS CONSULTING IN THE CONDITIONS OF INTERNATIONAL FINANCIAL SPHERE

INNOVATIVE POTENTIAL IN THE CONTEXT OF DETERMINING THE INNOVATIVE ACTIVITIES RESULTS OF INDUSTRIAL ENTERPRISES

NEW INDUSTRIAL POLICY IN CENTRAL AND EASTERN EUROPE: DEVELOPMENT'S EXPERIENCE AND CONCLUSIONS FOR UKRAINE

APPROACH TO IMPLEMENTATION OF CONTROLLING SYSTEM AT ENTERPRISES OF THE PORT SECTOR OF UKRAINE

CRITERIA ANALYSIS OF DEVELOPMENT PARADIGMS IN THE FORMATION OF ECONOMIC POLICY

ECONOMIC SECURITY IN THE ACTIVITY OF ENTERPRISES: MANAGEMENT ASPECT

EDUCATIONAL POTENTIAL OF CHINESE UNIVERSITIES FOR THE IMPLEMENTATION OF CIRCULAR ECONOMY MODEL

INTERNATIONAL ECONOMIC RELATIONS: STRATEGIC TRENDS

EFFECTS OF DIGITALIZATON ON UKRAINIAN ECONOMY

CHALLENGES FOR THE EMERGING STOCK MARKETS
Author Biographies
Mariia Bahorka,
Dnipro State University of Agrarian and Economics, Ukraine
Doctor of Economic Sciences, Associate professor of Marketing Department
Nataliy Yurchenko,
Dnipro State University of Agrarian and Economics, Ukraine
Candidate of Economic Sciences, Lecturer
Iryna Kadyrus,
Dnipro State University of Agrarian and Economics, Ukraine
Candidate of Economic Sciences, Associate professor of Marketing Department
Yaroslav Berezhnyi,
National Institute for Strategic Studies, Ukraine
PhD in Public Administration, Chief Consultant
Nataliia Miedviedkova,
Taras Shevchenko National University of Kyiv, Ukraine
PhD in Economics, Assistant of Department of Finance
Irina Varenik,
Shostka Institute, Sumy State University, Ukraine
Candidate of Economic Sciences, Senior Lecturer, Department of Economics and Management
Irina Prigara,
Shostka Institute, Sumy State University
Candidate of Economic Sciences, Senior Lecturer, Department of Economics and Management
Nataliia Gliebova,
National Pharmaceutical University, Ukraine
Candidate of Economic Sciences, Associate Professor, Department of Management and Administration
Viktoriia Kovalova,
National Pharmaceutical University, Ukraine
Candidate of Economic Sciences, Associate Professor, Department of Management and Administration
Oksana Dziuba,
Vinnytsa Institute of Trade and Economics of Kyiv National University of Trade and Economics, Ukraine
Candidate of Economic Sciences, Associate Professor, Associate Professor at Department of Accounting and Taxation
Yuliia Erdevdi,
Uzhhorod National University
Victor Shynkar,
Uzhhorod National University
Candidate of Economic Sciences, Associate Professor
Lesіa Ishchuk,
Lutsk National Technical University, Ukraine
Candidate of Economic Sciences, Assistant Professor at Department of Finance, Banking and Insurance
Vadym Polishchuk,
Lutsk National Technical University, Ukraine
Candidate of Economic Sciences, Assistant Professor at Department of Finance, Banking and Insurance
Khrystyna Kalashnikova,
O.M. Beketov National University of Urban Economy in Kharkiv, Ukraine
PhD in Economics, Associate Professor of the Department of Management and Public Administration
Viktoriia Shcevchenko,
O.M. Beketov National University of Urban Economy in Kharkiv, Ukraine
PhD in Economics, Associate Professor of the Department of Management and Public Administration
Liudmyla Kozarezenko,
Kyiv National University of Trade and Economics, Ukraine
Doctor of Economic Sciences, Professor
Iryna Tochylina,
SESE «The Academy of Financial Management», Ukraine
Candidate of Economic Sciences
Vitalina Konenko,
O.M. Beketov National University of Urban Economy in Kharkiv, Ukraine
Candidate of Economic Sciences, Lecturer of the Department of Entrepreneurship and Business Administration
Oleksandra Kononova,
Prydniprovska State Academy of Civil Engineering and Architecture, Ukraine
Valeria Kornіvska,
Institute for Economics and Forecasting of NAS of Ukraine, Ukraine
Doctor of Sciences (Economics), Senior Research Fellow
Vitaliy Kuzmenko,
SHEE «Kyiv National Economic University named after Vadym Hetman», Ukraine
PhD student of Corporate Finance and Controlling Department
Svitlana Urvantseva,
SHEE «Kyiv National Economic University named after Vadym Hetman», Ukraine
Phd in Economics, Associate Professor of Corporate Finance and Controlling Department
Kateryna Malinoshevska,
«Highline Media» Ltd., Ukraine
Candidate of Economic Sciences, Financial Director
Natalija Moroziuk,
National University of Life and Environmental Sciences of Ukraine, Ukraine
Candidate of Economic Sciences, Associate Professor, Leading Researcher
Svitlana Sliusar,
Pereiaslav-Khmelnytskyi Hryhorii Skovoroda State Pedagogical University, Ukraine
Candidate of Economic Sciences, Associate Professor
Lyudmila Nechyporuk,
Yaroslav Mudryi National Law University, Ukraine
Doctor of Economics, Professor
Oleksandra Nosovets,
Odessa National Polytechnic University, Ukraine
Postgraduate Student of the Department of Accounting, Analysis and Audit
Lidiia Voloshchuk,
Odessa National Polytechnic University, Ukraine
Doctor of Economics, Associate Professor, Head of the Department of Accounting, Analysis and Audit
Tetiana Obelets,
National Technical University of Ukraine «Igor Sikorsky Kyiv Polytechnic Institute», Ukraine
Candidate of Economic Sciences, Senior Lecturer
Svitlana Oneshko,
Odesa National Maritime University, Ukraine
Candidate of Economic Sciences, Associate Professor of Department of Economics and Finance
Mariіa Boiko,
Odesa National Maritime University
Candidate of Economic Sciences, Junior Researcher of Research Institute of Fundamental and Applied Research
Tetiana Romanova,
International Center of Modern Education, Czech Republic
Doctor of Economic Sciences, Associate Professor
Liudmyla Davydenko,
Poltava National Technical Yuri Kondratyuk University, Ukraine
Candidate of Chemical Sciences, Associate Professor, Associate Professor at Department of Physics
Ilona Semencha,
Oles Gonchar Dnipro National University
Doctor of Economic Sciences, Professor, Professor at Department of Finance, Banking and Insurance
Dongxu Qu,
Henan Institute of Science and Technology
Postgraduate Student, Sumy National Agrarian University, Ukraine
Tetiana Shevchenko,
Sumy National Agrarian University, Ukraine
Iryna Sheiko,
Kharkiv National University of Radioelectronics
Oleksandra Storozhenko,
Kharkiv National University of Radioelectronics, Ukraine
Irina Yarygina,
Financial University under the Government of the Russian Federation, Russian Federation
Doctor of Economic Sciences, Professor, Professor at Department of World Economy and World Finance, Head of Programs
Vladimir Gisin,
Financial University under the Government of the Russian Federation
Candidate of Physical and Mathematical Sciences, Professor, Scientific Director of the Master's Program "Blockchain and Cryptocurrency Technology", Professor of the Department of Data Analysis, Decision-making and Financial Technologies,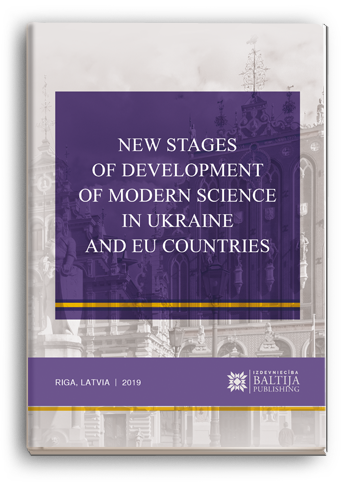 Published
November 29, 2019