DEVELOPMENT OF SCIENTIFIC, TECHNOLOGICAL AND INNOVATION SPACE IN UKRAINE AND EU COUNTRIES: Collective monograph
The joint monograph presents the current research of scientific innovation field in Ukraine and EU countries. General questions of comparative-historical, typological linguistics, Romanic and Germanic languages, history of pedagogy, theory and methods of teaching, pedagogical and developmental psychology, psychology of activity in special conditions, etc. are considered. The publication is intended for scientists, educators, graduate and undergraduate students, as well as a general audience.

Development of scientific, technological and innovation space in Ukraine and EU countries. – 1st ed. – Riga, Latvia : "Baltija Publishing", 2021. – 404 p.
Chapters
CHAPTER «PHILOLOGICAL SCIENCES»

MODELLING AS A METHOD OF COGNITION IN THE HUMANITIES

ANTONOMASIA FROM USUAL AND OCCASIONAL PERSPECTIVES (BASED ON THE NOVELS BY CHARLOTTE BINGHAM)

PECULIARITIES OF ENGLISH METALLURGICAL TERMS ON THEIR UKRAINIAN TRANSLATION

THE IMAGE OF A SUPERCHILD IN HALYNA PAHUTIAK'S NOVEL 'THE KINGDOM'

CHAPTER «PEDAGOGICAL SCIENCES»

WORLD VIEWS OF THE CURRENT PROBLEM OF FOREIGN LANGUAGE TEACHING IN HIGHER EDUCATION INSTITUTIONS IN MODERN SOCIO-CULTURAL SPACE

APPLICATION OF MODERN PEDAGOGICAL TECHNOLOGIES WHEN TEACHING A FOREIGN LANGUAGE IN THE NON-LINGUISTIC HIGHER EDUCATION INSTITUTION

THEORETICAL AND METHODOLOGICAL ASPECTS OF ENVIRONMENTAL COMPETENCE FORMATION AS A NECESSARY COMPONENT OF PROFESSIONAL TRAINING OF PRESCHOOL EDUCATION SPECIALISTS

METHODICAL SUPPORT FOR THE DEVELOPMENT OF CRITICAL THINKING OF PRESCHOOL CHILDREN

FORMATION OF CONSISTENCY OF THE FUTURE EDUCATORS' PROFESSIONAL KNOWLEDGE

AltspaceVR IN DISTANCE EDUCATION OF PHILOLOGY STUDENTS

FORMATION OF WORLDVIEW CULTURE OF THE FUTURE PRIMARY SCHOOL TEACHER IN THE CONDITIONS OF THE NEW UKRAINIAN SCHOOL BY MEANS AND IN THE PARADIGM OF INFORMATION AND COMMUNICATION TECHNOLOGIES

FORMATION OF READING SKILLS OF JUNIOR SCHOOLCHILDREN BY MEANS OF GRAPHIC ORGANIZER

THE TECHNOLOGICAL SECURING OF PROCESS IN THE FORMATION OF INFORMATIONAL CULTURE OF YOUNG TEEN-AGERS UNDER CONDITIONS OF A SECONDARY EDUCATIONAL INSTITUTION

CHAPTER «PSYCHOLOGICAL SCIENCES»

THE INFLUENCE OF TREATMENT CHILDREN ON INTERPERSONAL RELATIONS IN THE TEAM

COACHING SUPPORT IN THE CONTEXT OF THE GLOBAL CRISIS

PSYCHOMOTOR DEPRIVATION AND ITS MANIFESTATION AMONG EDUCATIONAL RESEARCH WORKERS
Author Biographies
Yana Boiko,
Dnipro University of Technology, Ukraine
Candidate of Philology, Associate Professor, Senior Lecturer at Department of Translation
Yuliia Haidenko,
National Technical University of Ukraine "Igor Sikorsky Kyiv Polytechnic Institute", Ukraine
Candidate of Philological Sciences, Associate Professor at the Department of the English Language of Humanities Orientation № 3
Oksana Serheieva,
National Technical University of Ukraine "Igor Sikorsky Kyiv Polytechnic Institute", Ukraine
Lecturer at the Department of the English Language of Humanities Orientation № 3
Larysa Mosiyevych,
Institute of Foreign Philology, Zaporizhzhia National University, Ukraine
Candidate of Philological Sciences, Associate Professor at Department of Foreign Languages for Professional Purposes
Olha Senkiv,
Drohobych Ivan Franko State Pedagogical University, Ukraine
Senior lecturer, English Practice Department
Nataliia Vasylyshyna,
National Aviation University, Ukraine
D.Sc. in Pedagogical Sciences, Associate Professor, Associate Professor at Foreign Language Department
Tetiana Skyrda,
National Aviation University, Ukraine
Ph.D. in Pedagogical Sciences, Senior Teacher at Foreign Language Department
Ruslan Slobozhenko,
National Aviation University, Ukraine
Senior Teacher at Foreign Language Department
Oksana Voloshyna,
Vinnytsia National Agrarian University, Ukraine
Candidate of Philological Sciences, Associate Professor of the Department of Ukrainian and Foreign Languages
Nataliіa Dzhura,
Ivan Franko National University of Lviv, Ukraine
Candidate of Biological Sciences, Associate Professor
Nataliіa Machynska,
Ivan Franko National University of Lviv, Ukraine
Doctor of Pedagogical Sciences, Professor, Chairperson of the Preschool and Primary Education Department
Olena Kovalenko,
Borys Hrinchenko University of Kyiv, Ukraine
Candidate of Pedagogical Sciences, Associate Professor, Associate Professor аt the Department оf Preschool Education оf the Pedagogical Institute
Tatiana Shуnkar,
Borys Hrinchenko University оf Kyiv, Ukraine
Candidate оf Pedagogical Sciences, Senior Lecturer аt the Department оf Preschool Education оf the Pedagogical Institute
Nataliia Kononenko,
State institution «South Ukrainian National Pedagogical University named after K. D. Ushynsky», Ukraine
Candidate of Pedagogical Sciences, Lecturer at Department of Preschool Pedagogy
Svitlana Martos,
Kherson State University, Ukraine
Candidate of Philological Sciences, Associate Professor of the Department of Ukrainian and Slavic Philology and Journalism
Svitlana Klymovych,
Kherson State University, Ukraine
Candidate of Philological Sciences, Associate Professor of the Department of Ukrainian and Slavic Philology and Journalism
Olena Karabuta,
Kherson State University, Ukraine
Candidate of Philological Sciences, Associate Professor of the Department of Ukrainian and Slavic Philology and Journalism
Nataliia Olkhova,
Lesya Ukrainka Volyn National University, Ukraine
PhD in Pedagogy, Associate Professor, Senior Lecturer at the Department of Theory and Methods of Primary Education
Iryna Sukhopara,
Borys Grinchenko Kyiv University, Ukraine
PhD in Pedagogic Sciences, Senior Lecturer at the Department of Elementary Education
Liubov Trifanina,
National Academy of the State Border Service of Ukraine named after Bohdan Khmelnitsky, Ukraine
Candidate of Pedago-gical Sciences, Lecturer at Department of Psychology, Pedagogic and Social-Economic Subject
Olena Belova,
Kryvyi Rih Gymnasium № 98 of the Kryvyi Rih City Council, Ukraine
Senior teacher, deputy director for educational work
Nataliia Vinnyk,
Institute of Human Borys Grinchenko Kyiv University, Ukraine
Candidate of Psychological Sciences, Senior Lecturer of the Chair of General, Age and Pedagogical Psychology
Valentina Kutishenko,
Institute of Human Borys Grinchenko Kyiv University, Ukraine
Candidate of Psychological Sciences, Associate Professor, Senior Lecturer of the Chair of General, Age and Pedagogical Psychology
Yuliana Terletska,
Lviv Polytechnic National University, Ukraine
Candidate of Psychology, Associate Professor, Senior Lecturer at the Department of Pedagogy and Innovative Education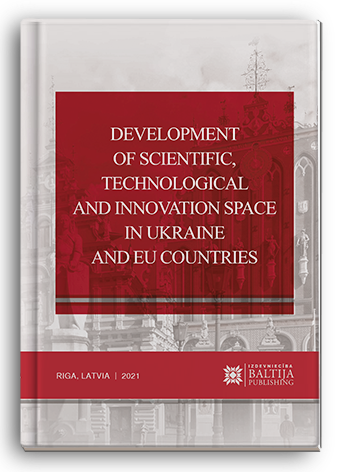 Published
October 29, 2021