DEVELOPMENT OF SCIENTIFIC, TECHNOLOGICAL AND INNOVATION SPACE IN UKRAINE AND EU COUNTRIES: Collective monograph
The joint monograph presents the current research of scientific innovation field in Ukraine and EU countries. General questions of economics and enterprise management, regional economics, marketing, modern management, mechanisms of public administration, administrative law and process, political institutions and processes, general questions of historical sciences, and so on are considered. The publication is intended for scientists, educators, graduate and undergraduate students, as well as a general audience.

Development of scientific, technological and innovation space in Ukraine and EU countries. – 2nd ed. – Riga, Latvia : "Baltija Publishing", 2021. – 324 p.
Chapters
CHAPTER «ECONOMIC SCIENCES»

INSURANCE SUPPORT IN TOURISM

PECULIARITIES OF THE FORMATION OF REGIONAL WASTE MANAGEMENT SYSTEMS UNDER THE CONDITIONS OF TRANSITION TO THE PRINCIPLES OF SUSTAINABLE DEVELOPMENT

TOURISM INSURANCE MARKET

HUMANIZATION OF ENTREPRENEURSHIP AS A DEFINING COMPONENT OF ECONOMY OF THE THIRD MILLENNIUM: RESEARCH METHODOLOGY

ORGANIZATION OF SCIENTIFIC CREATIVITY IN THE STRATEGY OF HYPERINDUSTRIALIZATION

CHAPTER «STATE ADMINISTRATION»

MODERN MECHANISMS OF ANTI-CRISIS REGIONAL MANAGEMENT OF EDUCATION IN THE CONDITIONS OF REFORM

DATAFICATION IN PUBLIC ADMINISTRATION: THE FORMATION OF A CONCEPTUAL MODEL

DEVELOPMENT OF CONCEPTUAL PRINCIPLES OF SOCIO-ECONOMIC FORECASTING

PECULIARITIES OF FUNCTIONING OF MECHANISMS OF PUBLIC GOVERNANCE IN THE FIELD OF CONTINUOUS EDUCATION

CHAPTER «LAW SCIENCES»

LEGAL REGULATION OF CRIMINAL LIABILITY FOR INTERFERING IN THE ACTIVITIES OF A DEFENDER OR A REPRESENTATIVE OF A PERSON IN UKRAINE: CURRENT STATUS

FORMATION AND DEVELOPMENT OF THE NORMS OF INTERNATIONAL TRADE LAW IN UKRAINE (IX – FIRST HALF OF THE XVII CENTURY)

CHAPTER «POLITICAL SCIENCES»

FEATURES OF THE SCANDINAVIAN MODEL OF PUBLIC DIPLOMACY OF THE KINGDOM OF SWEDEN

CHAPTER «HISTORICAL SCIENCES»

THE STRUGGLE OF THE OUN AND UPA FOR INDEPENDENCE IN 1944–1947 IN ZHOVKVA DISTRICT

LARGE-SCALE EVACUATION AT THE BEGINNING OF THE SOVIET-GERMAN WAR
Author Biographies
Yuliia Aleskerova,
Vinnytsia National Agrarian University, Ukraine
Doctor of Economics, Professor
Lidiia Fedoryshyna,
Vinnitsa National Agrarian University, Ukraine
Candidate of Historical Studies, Associate Professor
Yevhen Borshchuk,
Lviv Regional Institute of State Administration of the National Academy of State Administration under auspices of the President of Ukraine, Ukraine
Doctor of Economic Sciences, Professor, Professor of the Department of Management
Maksym Vasylyshyn,
Lviv Regional Institute of State Administration of the National Academy of State Administration under auspices of the President of Ukraine, Ukraine
Postgraduate student of the Department of Management
Oksana Voloshyna,
Vinnytsia National Agrarian University, Ukraine
Candidate of Philological Sciences (PhD in Philology), Associate Professor of Department of Ukrainian and Foreign Languages
Bohdanna Kosovych,
Ivan Franko National University of Lviv, Ukraine
PhD in Economics, Associate Professor, Associate Professor of Economy of Enterprise Department
Vladimir Shedyakov
Doctor of Sociological Sciences, Candidate of Economic Sciences, Free-lance
Ivan Bezena,
The Communal Institution of Higher Education «Dnipro Academy of Continuing Education» of Dnipropetrovsk Regional Council; Department of Social and Humanitarian Education, Ukraine
Associate Professor, Candidate of Philosophical Sciences, Manager
Olha Buhai,
Taras Shevchenko National University of Kyiv, Ukraine
Ph.D. student of the Educational and Scientific Institute of Public Administration and Civil Service
Viktoriia Koltun,
Taras Shevchenko National University of Kyiv, Ukraine
Doctor of Public Administration, Professor, Acting Head of the Department of Regional Policy of the Educational and Scientific Institute of Public Administration and Civil Service
Olena Yevmieshkina,
V.I. Vernadsky Taurida National University, Educational and Scientific Institute of Management, Economics and Nature Management, Ukraine
Doctor of Science in Public Administration, Associate Professor, Associate Professor at the Department of Public Administration and Economics
Alina Kyrpale,
University of Customs and Finance, Ukraine
Postgraduate student of the Department of Public Administration and Customs Administration
Lyudmila Ivashova,
University of Customs and Finance, Ukraine
Professor of the Department of Public Administration and Customs Administration
Nataliya Karpova,
Higher Educational Institution "Academician Yuriy Bugay International and Scientific Technical University", Ukraine
Doctor of Philosophy of Law, Associate Professor of Department of Law
Gryhorii Zabarniy,
Higher Educational Institution "Academician Yuriy Bugay International and Scientific Technical University", Ukraine
Doctor of Philosophy of Law, Associate Professor, Associate Professor of Department of Law
Oleksii Martyniuk,
Vasyl Stus Donetsk National University, Ukraine
Candidate of Law, Associate Professor of the Department of Constitutional, International and Criminal Law
Iryna Klymchuk,
Lviv Polytechnic National University, Ukraine
PhD in Political Science, Assistant at the Department of Political Science and International Relations
Serhii Koniukhov,
National University «Lviv Polytechnic», Ukraine
PhD in history, Senior Lecturer at Department of Museology and Cultural Heritage
Yaroslav Meleshko,
Gymnasium № 23, Kremenchuk; Kremenchuk Mykhailo Ostrohradskyi National University, Ukraine
Teacher of History and Jurisprudence; Postgraduate student
Ganna Kapustian,
Kremenchuk Mykhailo Ostrohradskyi National University, Ukraine
Doctor of Historical Sciences, Professor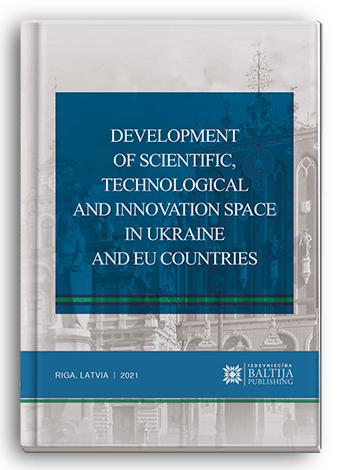 Published
October 29, 2021