CONCEPTION OF MANAGEMENT OF THE ANIMAL BIODIVERSITY TRANSFORMATIONS IN THE STEPPE ZONE OF UKRAINE UNDER CLIMATE CHANGE: monograph
Synopsis
The monograph includes important scientific information on the assessments of climate change impacts on the animals under current conditions of anthropogenic pressure within the steppe zone of Ukraine. The place of animals in organization of biogeocenosis and characteristics of adaptation there of to climate change were revealed. The results of multi-year monitoring researches on the effect of climatic factors on the main animal groups as Lepidoptera, Cyclostomes and Fishes, Amphibians and Reptiles, Birds were presented.
The scientific manuscript is intended for ecologists, specialists interested in environmental management and environmental protection. The book may be useful for graduate students and scientific researchers.

Conception of management of the animal biodiversity transformations in the Steppe zone of Ukraine under climate change: monograph. Ed. by O. Ye. Pakhomov. Rīga, Izdevniecība "Baltija Publishing", 2020. 190 с.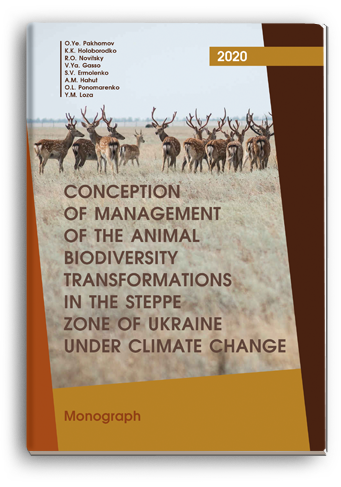 Published
October 5, 2020